Mid-Autumn Festival is the second-most important festival in China after the Chinese New Year. It's also known as the Moon Festival or the Mooncake Festival. In Chinese, it's  zhōng qiū jié . Mid-Autumn Festival is held on the 15th day of the eighth month of the Chinese calendar, which is in September or early October on the Gregorian calendar. In 2022, it falls on Sep.10th.

  Customs of the Mid-Autumn Festival in China focus on paying homage to the moon, family reunion, enjoying the full moon and eating moon cakes and fruits, and telling allusions to the younger generation, etc. The Mid-Autumn Festival is an ancient Chinese festival, because August 15 is in the middle of autumn, so called Mid-Autumn Festival. The traditional food for Mid-Autumn Festival is the moon cake. The moon cake is round, which symbolizes reunion and reflects people's good wishes for family reunion.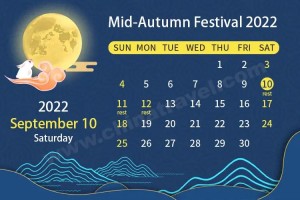 1. Family Reunion
The Mid-Autumn Festival is a big day for families reunion. People will go back home and get together with their families. This tradition is much like Thanksgiving in the United States. People will share a fantastic meal together to enjoy this family reunion time.
2. Admiring the Full Moon
The full moon is the symbol of a family reunion, reminding people of their hometowns and loved ones. After the family reunion dinner, people will go outdoors to admire the full moon on the night of the Mid-Autumn Festival.
3. Eating Moon Cakes
The Mid-Autumn Festival is also known as the Mooncake Festival. The cakes, typically round, symbolizing the full moon, are presented as gifts to relatives and friends. The moon cake is a must-eat food at the Mid-Autumn Festival.
4. Lighting and Hanging up Lanterns
Hanging up lanterns is called  (shù zhōng qiū) in Chinese. Chinese people believe the higher the lanterns are hung, the luckier the family will be. 
Every Mid-Autumn Festival, lantern carnivals, and exhibitions will be hung in parks and other public places, during which lanterns of various colors, patterns, and styles are on display. The entire area is decorated with beautiful lighting.
5. Worshiping the Moon
Chinese people believed the moon governed all vital changes, especially the harvest of grain. Therefore, people will put a table outside under the moon on the night of the Mid-Autumn Festival. Then burn incense, put moon cakes and fruits as sacrifices on the table, face the moon, and pray for the future.
Wish you health and success just like the bright and round moon in Moon Festive .  We are having holiday from Sep .10th  to 12ed for Moon Festival 。
---
Post time: Sep-09-2022